by Jim Keaveney.
There are two obvious draws to Theresa Rebeck's new dark comedy Mad House, in the form of its star leads David Harbour, currently back in the spotlight playing Hawkins' Sheriff Hopper in Series 4 of Stranger Things, and Bill Pullman, star of The Sinner.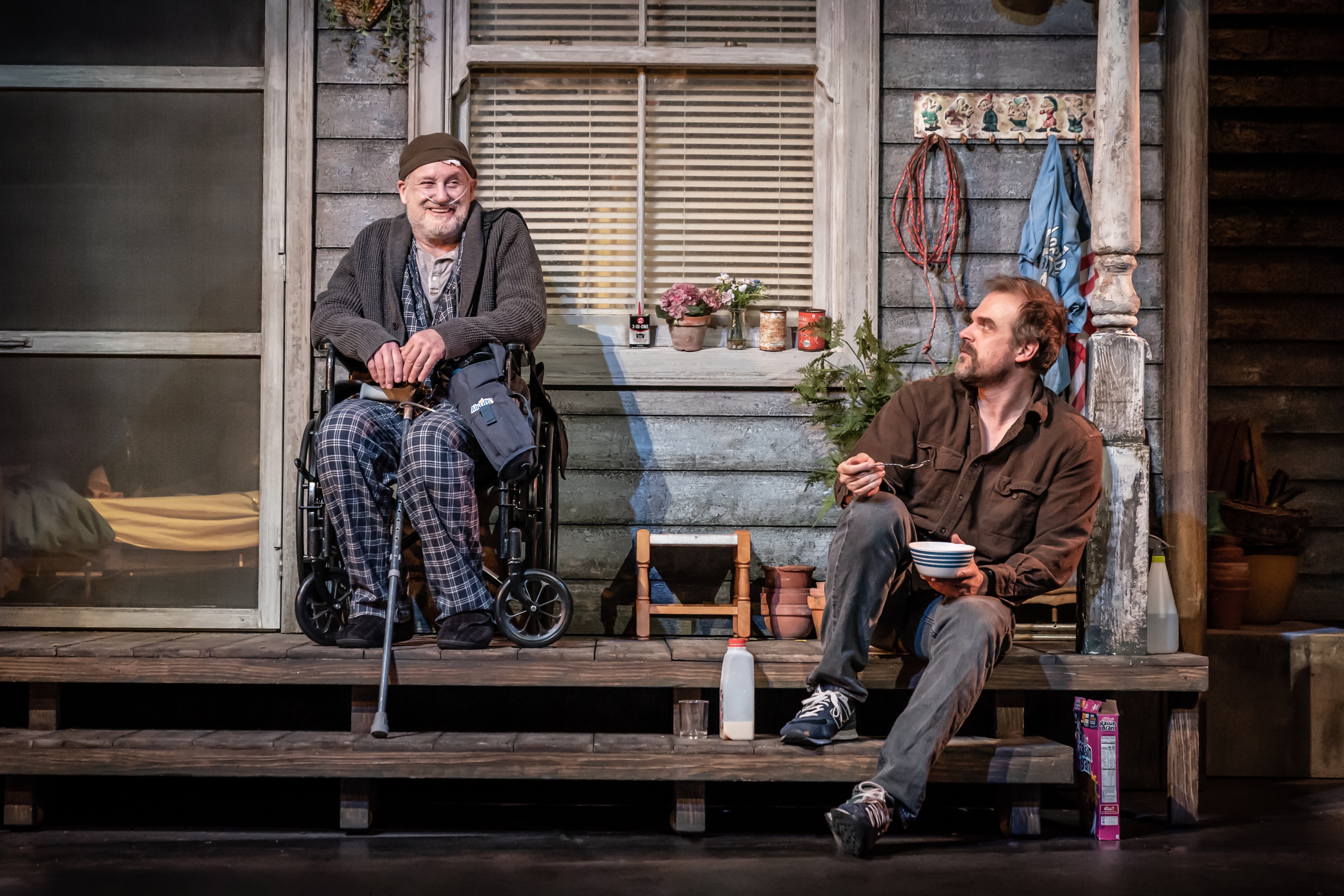 Bill Pullman and David Harbour. Photo: Marc Brenner
We're in rural Pennsylvania and Michael (Harbour) is back in his childhood home (impressively designed by Frankie Bradshaw) after a stint in a mental institution. He's been left to look after his dying father Daniel (Pullman) in the absence of his two siblings, Nedward (Stephen Wight) and Pam (Sinéad Matthews). However, with Daniel's situation deteriorating to the point where he requires at-home care, including the services of a hospice nurse, Lillian (Akiya Henry), Nedward and Pam soon arrive, determined to work out how much money Daniel actually has left and how they're getting their hands on it.
Directed by Moritz von Stuelpnagel, it is a play of two halves - two halves that could be two different plays. Pullman and Harbour are sensational as the bickering father and son in the first half. Pullman gleefully revels in the viciousness of Daniel, whose comments suggest alt-right tendencies with references to 'fake news' and transphobic rhetoric, while we can practically see the smoke pouring from Harbour's ears as Michael barely struggles to keep his anger at bay.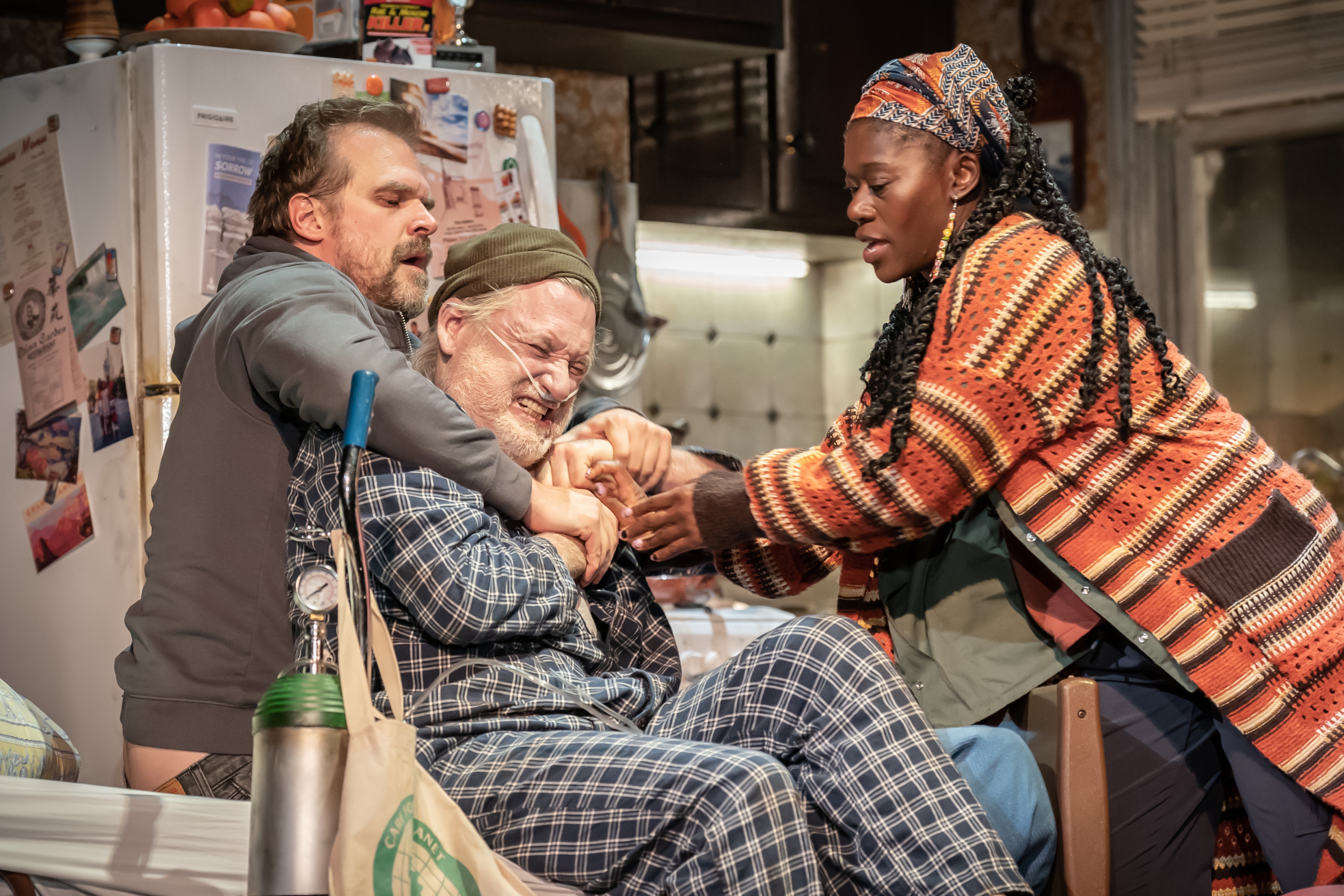 David Harbour, Bill Pullman and Akiya Henry in Mad House. Photo: Marc Brenner
In the second half, with Pullman now largely off-stage (a massive shame), our attention is turned to the sibling's relationship and we end up with a sibling drama that increases in volume as the act progresses - this is a family who can only communicate via yelling matches. It's not a communication method that suits Matthews' Pam. Whereas Pullman's Daniel is enjoyably unlikeable, Matthews' Pam is simply unlikeable - written one-dimensionally and played in a shrill one-note performance. Harbour, on the other hand, magnificently balances Michael's outbursts with subtle moments of tenderness, particularly in his interactions with Lillian.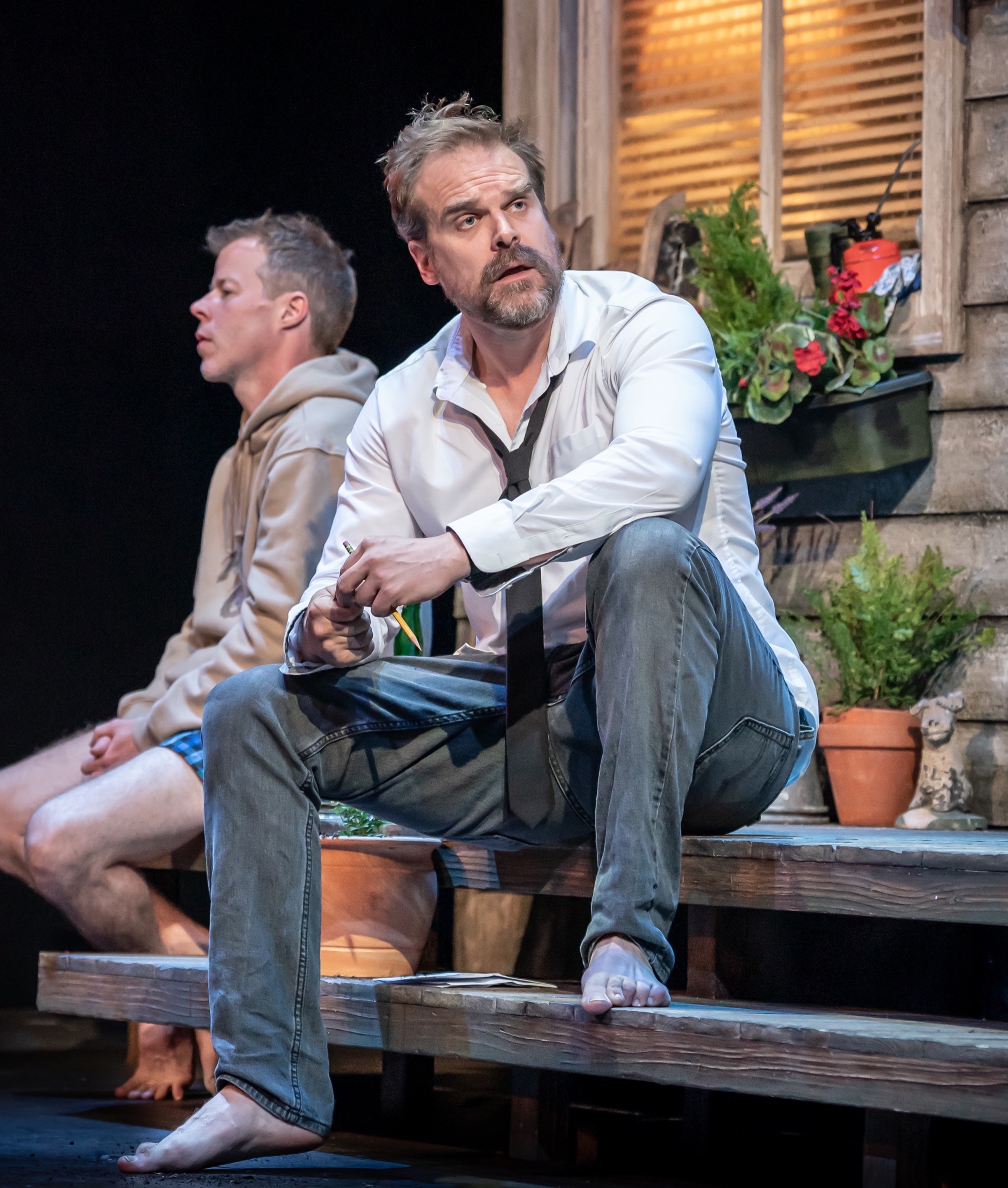 David Harbour in Mad House. Photo: Marc Brenner
von Stuelpnagel struggles to add nuance to the production, outside of the suggestion of a re-kindling of the brother's relationship. It's not helped by the feeling that this is a play that we've seen before time and time again; a broken family brought back together by a dead or dying patriarch (or matriarch) who cannot help but pick at old wounds, deepening them further. But despite this Rebeck's darkly funny script and Pullman and Harbour's performance make it a must-see; even if the feeling that there's a five-star play lurking in the first act, struggling to get out.
Mad House is at Ambassadors Theatre until 4 September
Don't miss our interview with Mad House cast member Hanako Footman: Interview: Hanako Footman, 'People will walk away with a strong desire to talk it out'
Jim Keaveney is the lead critic at The Understudy. He tweets occasionally from @understudyjim