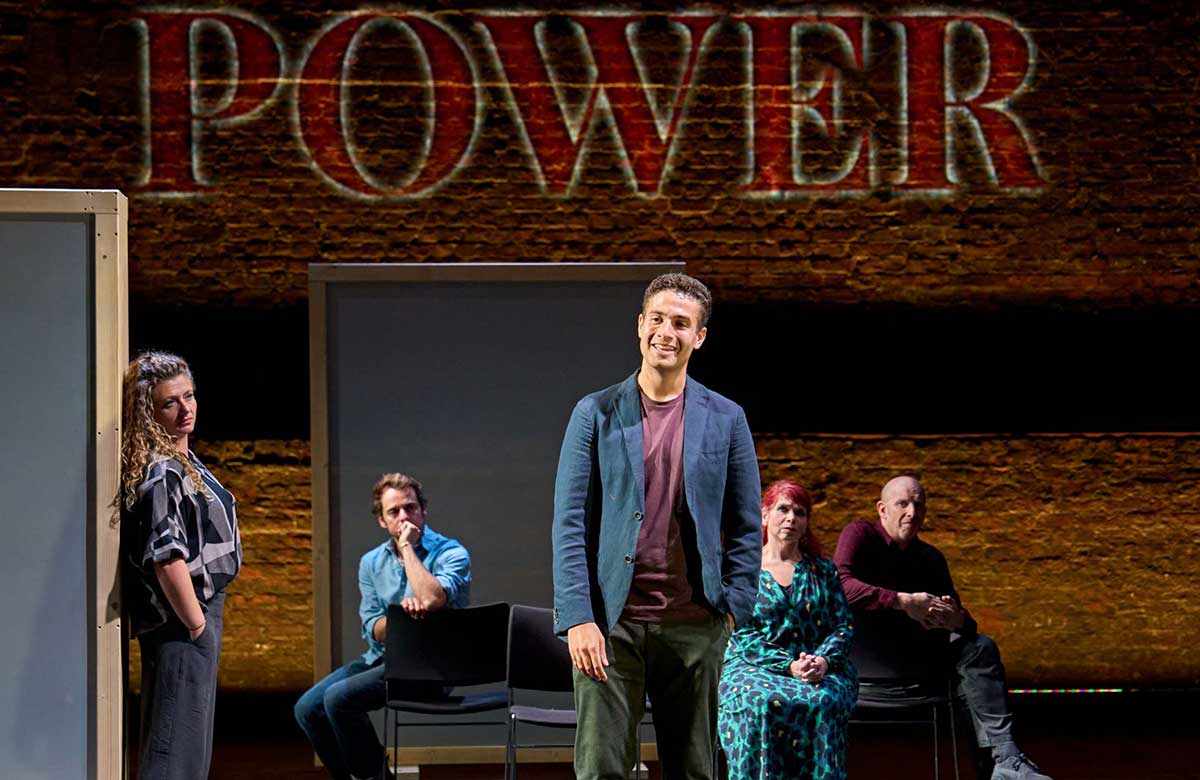 The company of Jews. In Their Own Words. Photo: Manuel Harlan
In 2009, the Royal Court Theatre hosted Seven Jewish Children, a play by Caryl Churchill. Some criticised it as being anti-Semitic; Churchill and Dominic Cooke, the director, say those claims are 'outrageous'. Then, last year, controversy again erupted at the Royal Court when it staged a play featuring a character originally named Hershel Fink. David Baddiel, among others, questioned the choice and allegations were made that the theatre was displaying spread anti-Semitic bias. To their credit, the Royal Court apologised and changed the name of the character. Now, they are staging a production made by and about Jews. It opens with a character called Hershel Fink and discusses Seven Jewish Children.
As the name of the production suggests, this is a space – the press sheet describes it as 'a theatrical inquiry' – for Jewish people to talk about themselves, rather than having their stories told by others. The Guardian columnist Jonathan Freedland has interviewed 12 Jewish people from a variety of backgrounds, and (with the exception of the opening scene) the entirety of the dialogue in this production is taken from those conversations.
We hear from well-known figures such as the actress Tracy-Ann Oberman, whose idea this production is, the political columnist Stephen Bush, and the Labour politician Margaret Hodge. They speak about the anti-Semitism they have faced throughout their careers, how it has made them feel, and the tough choices they have faced in deciding how to respond to it. Part of the point of this production is to make clear that Jewish people are not a homogenous group, and we also hear from a decorator, Phillip Abrahams, and a social worker, Victoria Hart, among others.
All the interviewees add something different to the mix, and the natural charisma of all the actors and actresses playing them is fundamental to the success of this production – other than a couple of punchy scenes featuring catchy songs and masked background performances, there is little action accompanying the words being spoken, so they must be delivered flawlessly. Especially impressive are Louisa Clein as Oberman and Luciana Berger (a former Labour MP), Alex Waldmann as Dave Rich (author of The Left's Jewish Problem) and Steve Furst as Abrahams and Howard Jacobson – who, as a recurring gag points out, has won the Booker Prize.
There is a wry humour spread throughout the production, in between the anecdotes of anti-Semitic incidents – among them reports of physical attacks, conspiracy theories, and casual remarks referencing tropes that remain all-too-common. The uncomfortable pervasiveness of anti-Semitism in the arts is brought home, with its roots in Chaucer, Shakespeare and Dickens.
Yet the production deals with this difficult material in a nuanced, thoughtful, matter-of-fact way – the anger that must surely result from regularly encountering prejudice is largely hidden. If Freedland and his interviewees were hoping this inquiry would shine a light on the continued presence of anti-Semitism in British and global life, and encourage people to challenge their assumptions, it can only be considered a great success.
Jews. In Their Own Words is at the Royal Court Theatre until 22 October
Christopher Day is currently studying for a PhD in modern British history at the University of Westminster. He enjoys watching theatre, reading literature and following Stevenage FC. You can find him on Twitter @ChrisDay96.