by Chris Dobson.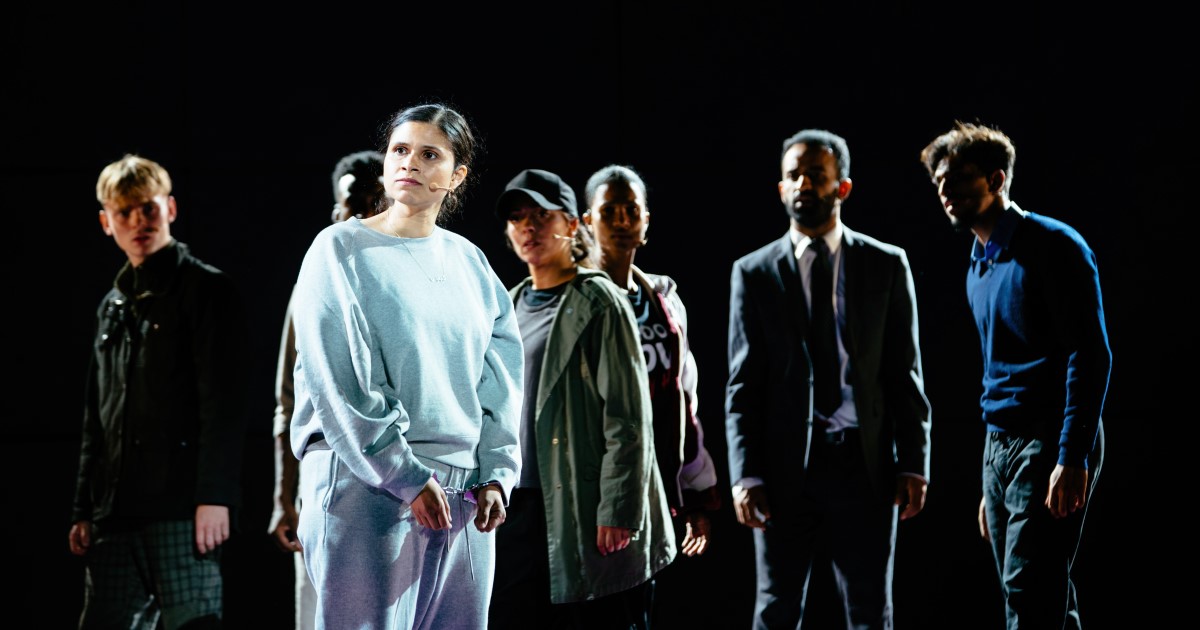 Zainab Hasan (Antigone) and the Antigone ensemble. Photo Helen Murray

In adapting Sophocles's Antigone, acclaimed playwright and poet Inua Ellams, with director Max Webster, has updated a two-thousand-year-old Greek tragedy so that it fits a twenty-first century British context. Leslie Travers's set design is initially joyous, with big pink letters spelling out 'ANTIGONE', but as political divisions tear open society, the stage becomes gradually barer and barer. Zainab Hassan is Antigone, whilst Tony Jayawardena plays her politically ambitious uncle Creon and Shazia Nicholls takes on the role of her sister Ismene. When Antigone's feuding brothers kill each other, one (Eteocles, played by Abe Jarman) is hailed as a hero, whilst the other (Polyneices, portrayed by deaf actor Nadeem Islam) is decried as a terrorist. Creon decrees that Polyneices – his own nephew – not be afforded a burial, which Antigone sees as outrageous. The production's setting in Regent's Park Open Air Theatre, just a stone's throw from London Central Mosque, feels fitting, as a central theme in the play is the importance of religion and, in particular, Islamic traditions.
Less concerned with gender difference, Ellams's Antigone focusses on the role of race in society, asking: Could a non-white politician like Creon ever be accepted as Prime Minister, without resorting to populist tactics? The political messages are not subtle and Sandy Grierson's Aleksy is clearly modelled on Dominic Cummings; with his Machiavellian advice and data-driven strategising, he could be Creon's friend or foe. Pandora Colin as Creon's wife Eurydice and Oliver Johnstone as their son Haemon do not have a great deal to contribute to the play, the cast of which could perhaps have been further trimmed. A lot is covered in the course of a couple of hours, but the play feels constrained by the enforced structure of a Greek tragedy. Did this need to be about Antigone, or could it not have simply been the story of an anonymous British-Pakistani woman?
Although the play strives for beauty in its lyrical language, the actual performances are not grounded in realism. Rather than real characters, we get archetypes who stand in for opposing concepts: Justice versus oppression, compassion versus cruelty. Because we are unable to consider Creon's viewpoint as potentially valid, too, Ellams's Antigone lacks any sense of jeopardy. We know which side we are on and we know where this is heading. Lighting designer Jack Knowles and sound designer Emma Laxton deserve praise, however, for crafting an atmospheric production. The real star of the show is not Antigone herself, but rather the chorus of actors who periodically dance across the stage, commenting on the events of the play in a lyrical medium somewhere between poetry and rap. In the end, Ellams's Antigone is a play which comments effectively on the problems afflicting modern British (or, more specifically, English) society, but it provides no insights into what might be done to address these issues.
Antigone is at Regent's Park Open Air Theatre until 24 September
Chris Dobson is a freelance journalist from the North of England. He now lives in North London and is passionate about theatre, film and literature.