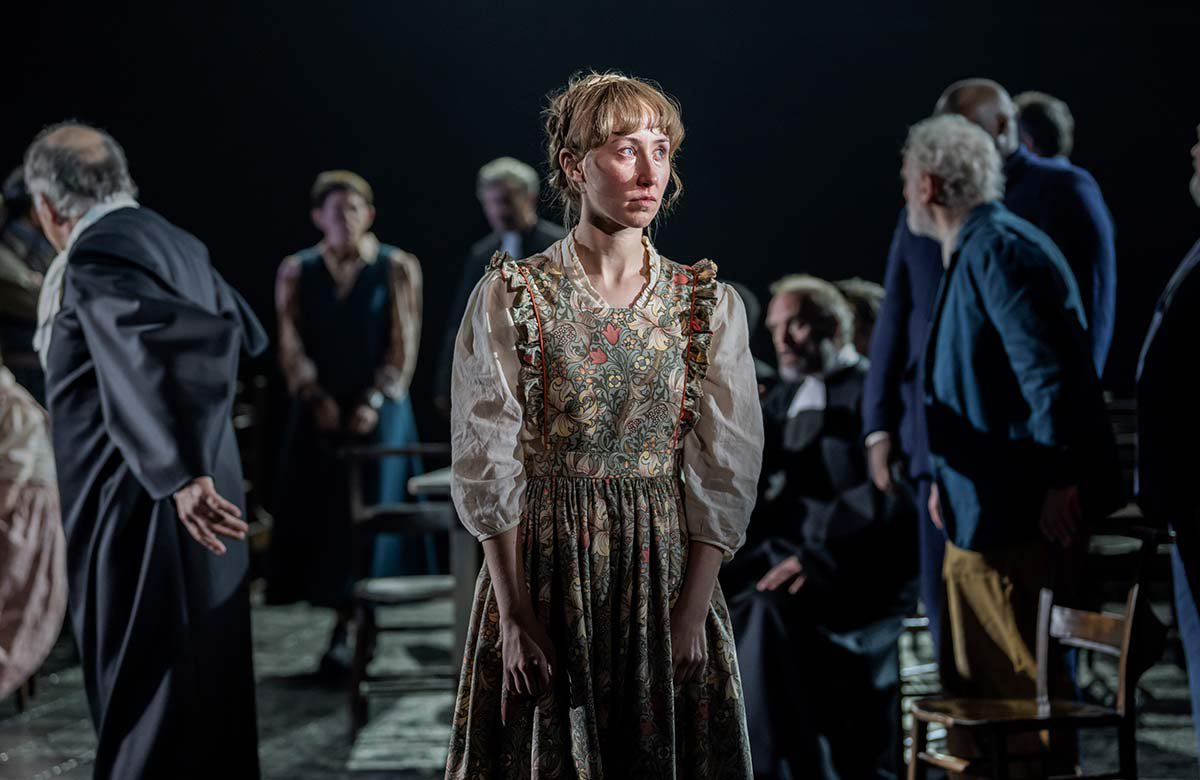 Erin Doherty in The Crucible. Photo: Johan Persson
The National Theatre's revival of The Crucible, Arthur Miller's 1953 allegory to the hysteria of McCarthyism and the Second Red Scare through the guise of the Salem witch trials, again proves its timeless qualities. It is impossible not to find parallels with our modern society and culture.
What is notable about director Lyndsey Turner's production, is that she allows the audience to come to our own conclusions on what those parallels may be. There is no over-played references to any ex-United States Presidents or wink-nudge attempts to use the existing text to hint at any culture war - instead Turner allows Miller's text the space to speak for itself; rare in a modern revival of this kind. It makes the hysteria that drove the small Salem community to hang nineteen people for witchcraft between February 1692 and May 1693 all the more real, and all the more terrifying for it.
By allowing Miller's text room to breathe Turner also allows Miller text roo lyricism to come to the fore - it is no more poetic than when Abigail recounts her memory of their affair to Proctor and pleads with him for his love. The production is visually stunning too; designer Es Devlin surrounds the stage in a curtain of rainfall between scenes, the drops flashing in the darkness. As events are described in the foreground the actors appear in the background, lit in a Tenebrism style by Tim Lutkin, as if they were a real-life Joseph Wright of Derby painting.
As John Proctor, Brendan Cowell's physical presence engulfs the expansive Olivier Stage - you feel immediately why Abigail is drawn to him. Erin Doherty captures the growing confidence of Abigail as she becomes assured of her power of Abigail while Eileen Walsh is understated as the gentle Elizabeth Proctor. Meanwhile, Karl Johnson threatens to steal every scene, innocently, but sometimes wryly, delivering Giles's perfectly timed interjections. There is fine support too from Fisayo Akinade as Reverend Hale, rallying against injustice, and Matthew Marsh as Deputy Governor Danforth, who fails to see any fault in his version of justice.
With both style and substance, this production deserves to be called what it is - a masterpiece.
The Crucible is at the National Theatre until 5 November. A live recording of The Crucible will be released in cinemas in the UK and Ireland from 26 January and internationally from 2 March 2023.
Jim Keaveney is the lead critic at The Understudy. He tweets occasionally from @understudyjim