SMOKE by Kim Davies is a gripping modern adaptation of August Strindberg's ground-breaking play, Miss Julie. This sharp and provocative piece makes its London Premiere at Southwark Playhouse next week in an all-new production directed by Polina Kalinina and Júlia Levai.
It stars real-life couple Oli Higginson and Meaghan Martin as John and Julie, who meet in pre-'Me Too' New York at a BDSM party.
Oli Higginson, whose theatre credits include the acclaimed The Last Five Years which also played at Southwark Playhouse before a West End transfer to the Garrick Theatre, spoke to us ahead of opening night to talk about his career, coming back to Southwark Playhouse and all the details on SMOKE.
Q&A with Oli Higginson
Hi Oli, thanks for taking the time out from preparations for SMOKE to talk to us about your career and the production. Tell us a little bit about your background.
I grew up in London, seeing films, going to the cinema. I did school plays. I adored going to the theatre. I was drawn to the mystery of it all, the magic and adventure. It felt a bit naughty and forbidden to me . . . here were these bold actors getting up onstage and tackling these huge, epic themes. Using all this language I'd never even really heard before. They were superheroes to me. I admired them so much. I admired their emotional openness, their bravery to get up onstage in front of people and take risks. But ultimately I never really saw acting as a proper job. I took a lot of creative inspiration from my family - especially my mum - but I didn't come from a family of actors, nor did I really know anyone who was a professional actor. I loved playing football and tennis, I hated maths and chemistry, I was passionate about literature and philosophy, and I was singing in teenage rock-bands (of varying quality!). But I always gravitated towards the school theatre (usually taking myself way too seriously, prancing around like I was the next Olivier). Once I got to 18, and I went round telling everyone I was going to be an actor, most gave me a look something-along-the-lines-of 'isn't it about time you grew out of that and thought about a proper job?'. My school's careers department recommended I be a lawyer or hairdresser. Maybe I missed a trick not opening the world's first hairdressing law firm. There's still time I guess.
I found myself going to Bristol University to study Theology. I started to find my people. Bristol was teaming with like-minded theatre-folk. Plays and musicals were being performed left, right, and centre. I was a kid in a candy store. I did productions of Spring Awakening, Tom Stoppard's Arcadia, Sondheim's Into the Woods. I was terrible in some, I was passable in others. And then everyone started talking about this thing 'drama school'. I applied to a few, didn't get in anywhere. I remember getting a rejection letter in the post and just sobbing my eyes out. I spent a year doing a bunch of odd jobs, working in a bar, a restaurant, even a singing job at a care home (that's a story for another day). I re-applied to my favourite school, the Guildhall School of Music and Drama. And I got in. I trained at Guildhall for 3 years, graduated in 2019 and here I am.
You're returning to Southwark Playhouse following your previous success there with The Last Five Years. How does it feel to be back?
It's lovely. I really adore the vibe at Southwark Playhouse. It's always been one of my favourite theatres in London, but even more so after The Last Five Years.
We were performing at Southwark in that fateful March of 2020 when the stay-at-home message shut theatres entirely. We were all huddled round someone's propped-up smartphone in the dressing room, watching the news broadcast. It's a moment you never forget. And then I felt incredibly fortunate to perform at Southwark for stretches of the pandemic — the passion and dedication to getting the theatre up-and-running against impossible odds was really heartening. From the front-of-house to the technical team, I have such a fondness for everyone who works in the building. There's also a buzz about the audiences that come to Southwark, they're often a very perceptive and passionate theatre-crowd — there's an atmosphere. I'm excited to be back, and interested to see how it will be different in 2023 with SMOKE.
What can you tell us about the play and your role?
SMOKE by Kim Davies is set in 2013 New York City. The play is about two young people — Julie and John — who meet each other for the first time in the kitchen of a BDSM sex party. They get chatting, they flirt, they start to hook up. There is, of course, a lot more going on than initially meets the eye. SMOKE is a modern adaptation of the play Miss Julie by August Strindberg, yet whilst there are a lot of similarities but there are also some stark differences. Kim Davies began with this classical text, and you can expect many of the same themes of gender, sexuality, consent, class, and power. But SMOKE extends the conversation even further, dives deeper into the nuances of this conversation, takes stock of the progress we've made and asks: where to next?
I play John; he's a fascinating character and there's a lot going on with him. He's an aspiring artist, a graduate of the photography programme at NYU, but finds himself at 31 struggling to make ends meet. He can't find a leg up in the intensely competitive art industry, he doesn't have health insurance, he barely has a dollar to his name and nobody will take him seriously as an artist. He's found some community in the New York S&M scene, but is exhausted by his low-paid internship working under the immensely successful — but chaotic and demanding — photographer Geoffrey Bradford. All of this comes to a head when he meets Julie. The two really hit it off, but as I say, there is far more going on than meets the eye. The play swells into dark and dramatic territory, as we peel back the layers of who these people really are.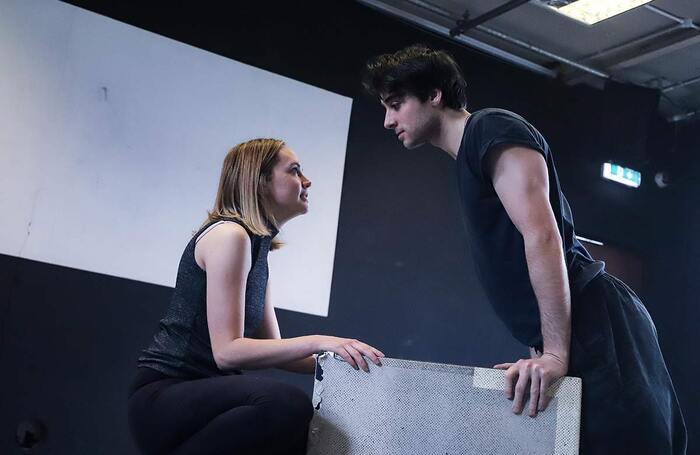 In rehearsals with Meaghan Martin. Photo: Lucy Hayes
How have rehearsals been so far?
It's been a really invigorating and enlightening process. This production is very physical. We've been exploring the physical language of the play. It's a piece about intimacy, sexuality, and desire, and we've been on our feet trying to get to the heart of what that looks like and feels like. Our brilliant directors Polina Kalinina and Júlia Levai are passionate about a more stylised, less-naturalistic physical language to contrast with the naturalism of the text of the play. So there's lots to discover, tonnes of ideas being thrown around — and with the awesome support of intimacy director Asha Jennings-Grant. It feels like we really could go in any direction, there's no presumption about how the play or the characters 'should' be done which makes for a special kind of working environment.
Has your approach to playing John changed as you've worked through the character and the play with Júlia, Polina and Meaghan?
It's always a bit of a dream being in a room with creative minds you admire and who challenge you. I'm feeding off a really talented and dedicated team of people, and it drives me to dig deeper and bring as much to the table as I possible can. It's funny because we all did an R&D together for this play in March of 2021 (during a lockdown — performances were banned but R&Ds were permitted). So SMOKE is a play that has existed in our minds and bodies for close to two years. And yet gathering in 2023 to begin rehearsals, it's felt like starting again in a very beautiful way. It's impossible not to see the play through the prism of where we are right now as a society, as a community, but also where I am as an individual. I've been constantly re-evaluating where I stand on the character and the play. Whilst there's some definite certainties to the story of SMOKE and what plays out, there are also a lot of ambiguities. And the further we go, the more we see that it's a play about grey areas. A lot of modern drama is very much focussed on an almost binary approach to character and storytelling; here is the 'perfect' character, here is the 'flawed' character, be more like the 'perfect' character, be less like the 'flawed' character. SMOKE, however, is interested in the blurred lines where 'good-ness' and 'bad-ness' can co-exist in a person. Beauty is in the eye of the beholder, after all. The more we explore the play, the more we realise that Kim Davies' writing demands that the actors and creative team get out of the way and let the audience think for itself. SMOKE doesn't spoon-feed a correct moral judgement to the viewer, it simply unfolds a series of real-time interactions between two people on a random night out in the kitchen of a house party.
So I guess my approach to SMOKE will always be to remain curious, not presume too much about the play, and recognise that as an actor it's not my job to judge the story, just to tell it with as much soul, bravery, and human messiness as I possibly can. If you want to know my personal point of view, then I suppose you'll have to catch me in the bar afterwards . . .
How do you think audiences will react to the updated modern setting and context of the adaption?
I think the play is instantly relatable. It's funny, it's witty. It's got all the awkwardness of flirting and the kind of subtle cat-and-mouse power-play that comes with that. It's impossible not to lean in and cringe. I think audiences will relish the fly-on-the-wall type experience of bearing witness to what is a private conversation between these two excruciatingly misguided, sexually-charged individuals. We've been talking a lot about the TV series White Lotus and Succession. There is something of those series in SMOKE. The characters are these self-possessed, privileged, deeply-flawed individuals but nevertheless you are drawn to them in some way. They are undeniably human. Over the course of the 70 minutes of the play, we move into spikier, more dangerous territory. Audiences are treated to a climax which is a lot darker and disturbing as lines of consent are blurred and a language of violence is introduced. I think fundamentally, whether audiences are familiar with Miss Julie or not doesn't matter. Kim Davies' play stands alone as far more than just another Miss Julie adaptation, but a piece of modern drama entirely in its own right. It's a truly extraordinary piece of writing, and I'm in awe of what Kim's created.
Finally, how would you describe Smoke to someone considering buying a ticket for the show?
I really mean it when I say, there isn't much like it out there. It'll be a very unique evening at the theatre. Southwark Playhouse is very intimate — and even more so as we are performing SMOKE in-the-round. Yes the play is undoubtedly dark in places and deals with themes of trauma (there is a full list of content warnings on the Southwark Playhouse website). But the play is very funny too. The two-hander wittily and dextrously explores so many ripely relevant themes of gender, sexuality, sexual assault, capitalism, consent, and power. SMOKE even explores the challenges of a ruthlessly competitive arts industry and the toll it can take on young people — it's immensely relatable to anyone pursuing a career in the arts. And I think anyone who loves Succession or White Lotus will find SMOKE equally exciting. But most of all, most of all, SMOKE only runs at 70 minutes, no interval. We start at 8pm and you're in the bar by just after 9. What's not to love?
SMOKE is at Southwark Playhouse from 1 to 25 February with tickets available here.