As James Norton gears up to take the stage in Ivo van Hove's production of Hanya Yanagihara's hit novel A Little Life, we take a look back through Norton's stage career ahead of what is hyped to be a scintillating return.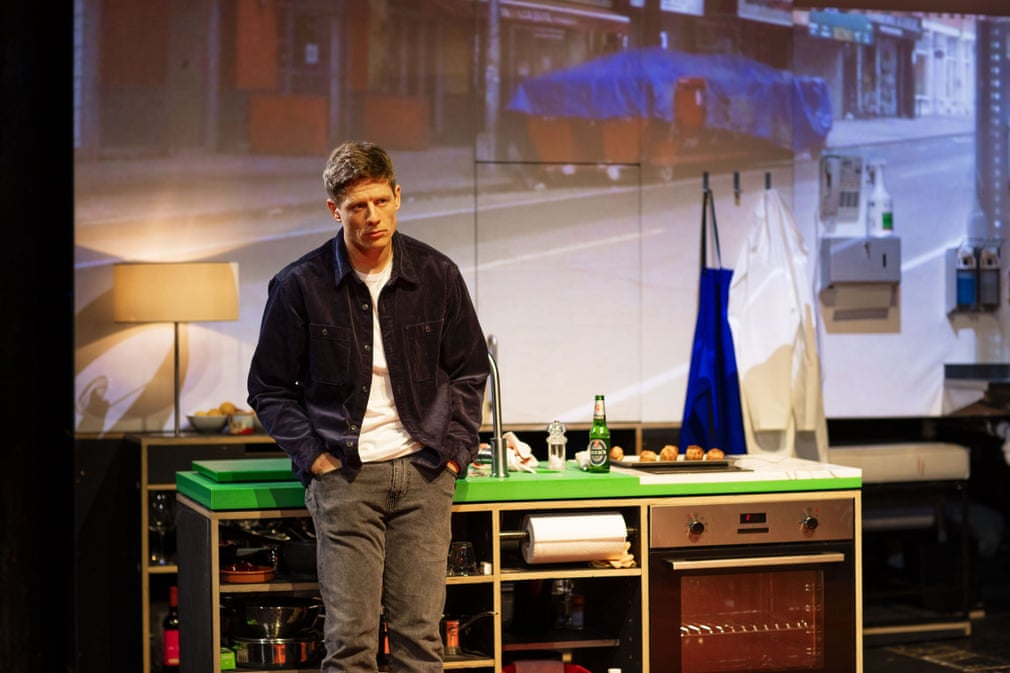 James Norton in A Little Life. Photograph: Jan Versweyveld
Cymbeline, Cambridge Arts Theatre, 2007
Among other university productions, Norton played Posthumus in Cymbeline at Cambridge Arts Theatre as part of The Marlowe Society's centenary celebrations. The production was directed than none other than Trevor Nunn, former Artistic Director of the Royal Shakespeare Company and the National Theatre. Norton was a member of the theatre club while at Cambridge University.
Posh, Royal Court Theatre, London, 2010
He next appeared in Posh, Lucy Wade's play about an Oxford University dining club called "The Riot Club", a fictionalised version of the Bullingdon Club, originating the role of Miles Richards. The play earned positive reviews and went on to be adapted into a film version, The Riot Club, albeit without Norton.
That Face, Crucible Theatre, Sheffield, 2010
The same year, Norton went on to star in That Face at the Crucible Theatre, playing Henry opposite Frances Barber. It was a notable performance, particularly for the climax of the play which featured Norton, as Henry, urinating on a bed while dressed in his mother's underwear.
Journey's End, Duke of York's Theatre, London and UK tour, 2011
After Sheffield it was back to London for Journey's End, with Norton taking on the role of Captain Stanhope. The Guardian praised his performance in a four-star review, saying that "James Norton bravely shows the ugliness that has crept into Stanhope's soul, as well as his unflinching courage."
The Lion in Winter, Theatre Royal Haymarket, London, 2011
Later that year Norton reunited Trevor Nunn for The Lion and Winter, supporting leads Robert Lindsay and Joanna Lumley. The production was largely panned with a number of two-star reviews, including in The Guardian and the FT, the latter commenting that Norton and his fellow cast members Tom Bateman and Joseph Drake "do their best with parts that are really one note."
Bug, Found111, London, 2016
Norton's next production found better favour with critics, playing Peter opposite Kate Fleetwood's Agnes in Tracy Letts's 1996 paranoia play where Agnes has taken Gulf War veteran Peter into her motel room. The temporary venue Found111 may be gone but memories of Norton's performance live on.
Belleville, Donmar Warehouse, London, 2017
Playing Zack opposite Imogen Poots at the Donmar under Michael Longhurst's direction, Norton's performance earned better reviews than the play which received a mixed reception in a 'superbly acted and impeccable staged production. As Norton's television career continued to take off his stage appearances dwindled.
A Little Life, Richmond Theatre and Harold Pinter Theatre, London, 2023
Now after almost six years away from the stage, Norton is back in A Little Life playing Jude St. Francis in Ivo van Hove's production of Hanya Yanagihara's one million bestseller A Little Life, something of a cult hit on a mass scale. It's a mammoth four hours long and has already hit the headlines after the Daily Mail leaked photographs of Norton's nude performance. The play, an exploration of trauma, survival and love as Jude suffers the lifelong impact of child abuse, is a starry affair with Norton performing alongside Bridgerton's Luke Thompson as Willem, It's a Sin's Omari Douglas as JB, and The Witcher's Zach Wyatt as Malcolm. No wonder it's already sold out it's run at Richmond Theatre and the Harold Pinter Theatre, before adding shows at Savoy Theatre later this year. You might not want to miss it.
Tickets to A Little Life are on sale now with limited availability