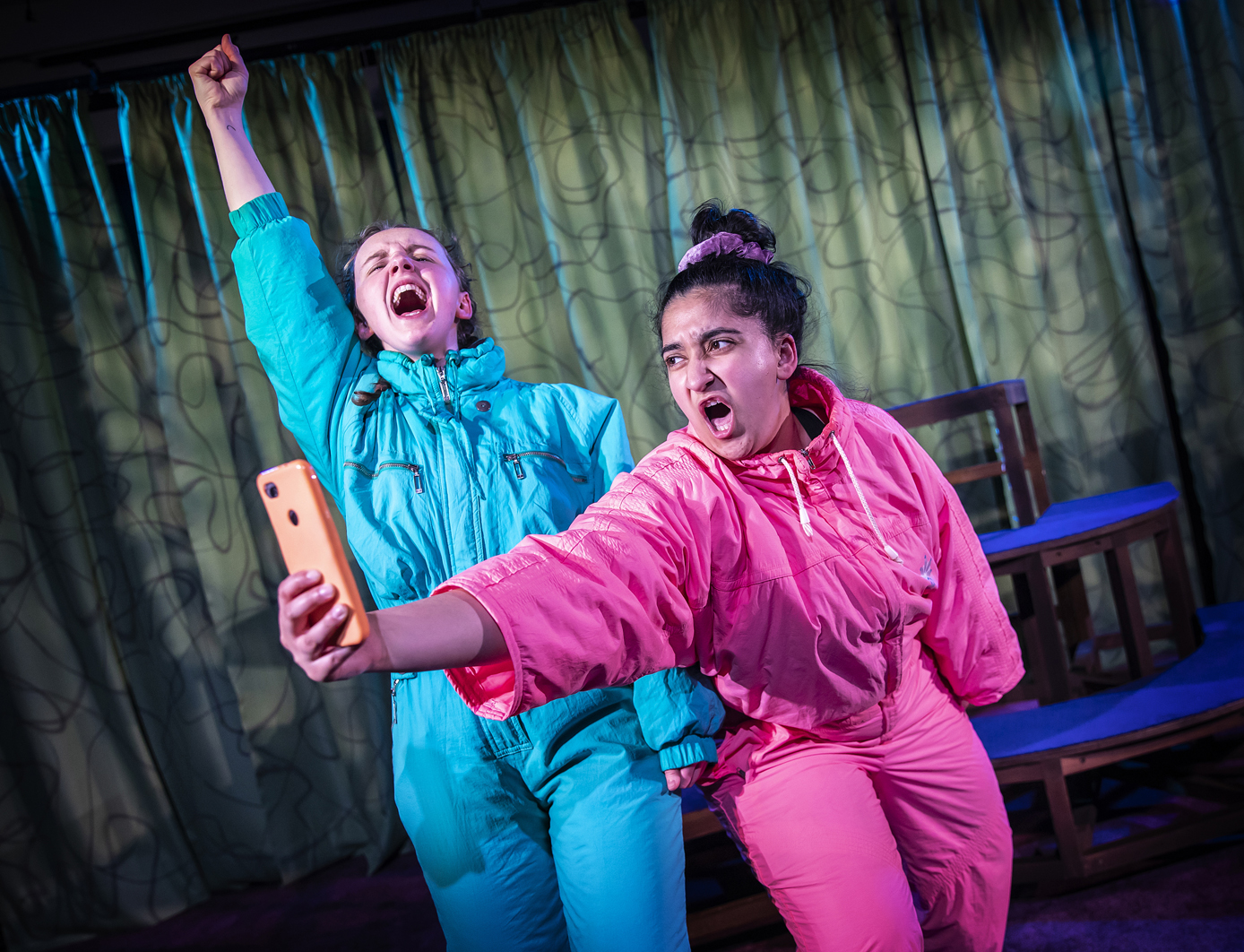 by Carla Rudgyard
Following its Edinburgh Fringe success at the Pleasance, SHEWOLVES' short and punchy jab at the climate crisis will be at Southwark Playhouse until the 8th of July.
Self-proclaimed as: 'Somewhere between Booksmart, Little Miss Sunshine and Thelma & Louise', the show explores the unlikely friendship of two teens in their pact to run away. It's a chaotic whirlwind of climate anxiety, pubescent insecurity and rash decisions. It's climate change, on hormones, on Poptarts, and it will remind you exactly how confusing it is to be a young person living through a mass extinction.
The dynamic between the two is undeniably compelling. Louise (Harriet Waters) is remarkably smart, independent, and endearing in her passionate but naive attempts at environmental protest. Priya (Gurjot Dhaliwal) is an energetic burst of cheeky and frank realness.
Writer Sarah Middleton provides a quest for far more than climate action, as we watch the two friends find solace in each other's company, and navigate their dysfunctional family relationships and layers of privilege as a collective she-wolf pack.
It might only scratch the surface of the politics within our current environmental collapse, but Louise's expulsion from school for her 'extremist views' after partaking in 'Skolstrejk för klimatet', is reflective of the attitudes of climate change deniers today. Armed with two cans of baked beans and their brilliantly bright ski suits (Charlotte Henery), Hannah Stone's direction has you laughing one moment, and grimacing the next, as you're reminded that, 'If sea levels keep rising, the earth will be inhospitable and we'll all die'.
There's a delightful neatness to the whole thing. The efficiently simple set, with multipurpose moving platforms that double as cupboards, or beds, or the twinkling night sky, are all we need to feel immersed alongside Eleanor Isherwood's eloquent and funky sound design.
Perhaps, with its multiple fart-jokes and crude references, this performance might be more apt for a youthful audience, and I hope they find it, because it's the sort of show that would have done me a world of good to see as a young teen. It's a giggly, colourful, and hilariously awkward insight into the minds of two young girls who, much like Greta, don't want their dreams and childhoods stolen with empty words.
SHEWOLVES is at Southwark Playhouse until 8 July.
Carla is a playwright and a graduate of the Royal Central School of Speech and Drama. You can find her on Instagram.