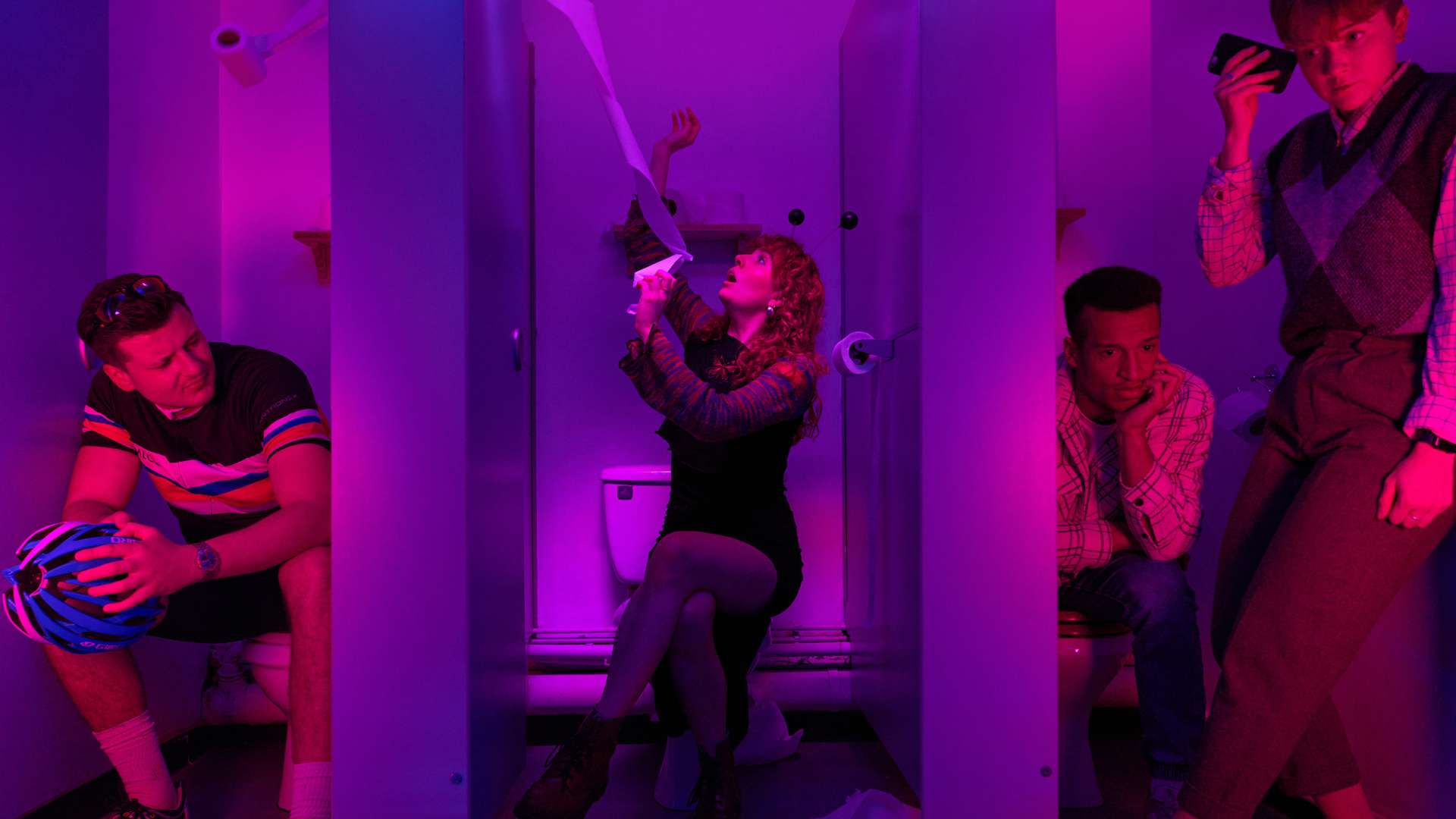 By Natalie Evans
A bee, A boomer, A broken heart, and A worried mind all walk into a gender neutral loo...
Queer-led theatre collective Stroud & Notes have created a bonafide masterpiece with Public - The Musical; an hour-long production that follows four individuals trapped together in a public toilet. As they count down the minutes until the maintenance team arrives, the close proximity, along with a push from the teenage influencer/aspiring activist among them, forces the strangers to get to know one another, allowing us to witness in real time as they each have their metaphorical cubicle walls broken.
I myself have been told many a stranger's life story over a graffitied sink, so the concept felt comfortingly familiar, but this was far more than a drunken over-share. These characters are somewhat archetypal representatives of different social positionalities, and so though they do defy aspects of their perhaps initially presumed personalities, they each have something to both learn from and teach to the other members of the cohort. Whether this be that good intentions are sometimes poorly executed as a result of cultural naivete, or that it's important to keep an open mind and try even if we get things wrong, our four protagonists all walk out of the urine-ridden confinement enlightened as to what the world might look like 'on the other side'.
There are no villains or saviors, just people actually listening (after the first forty or so minutes of bickering of course). This subsequently achieving an overarching narrative of understanding and compassion that holds up the notion of public spaces, especially those in which we are in some way vulnerable like a toilet, needing to be safe for everyone.
The cast included Annabel Marlow and Alicia Corrales, both Six alumni which is entirely fitting for these two queens of harmonies, and Andrew Patrick-Walker, who can smash whistle notes that would blow 2015 Ariana Grande away. With such an impressive company, it is no shock that every single song was a banger, but I must give special mention to 'Nervous Disposition', led by newcomer Hugo Rolland, who had absolutely no trouble keeping up with his more seasoned cast-mates, and gave us a beautiful new anthem for the anxiety sufferers.
In conclusion, I laughed, I cried, and I would be singing the songs in the street if only I had the vocal range.
Public - The Musical is on at the Pleasance Courtyard (Pleasance Two) until the 28th of August.