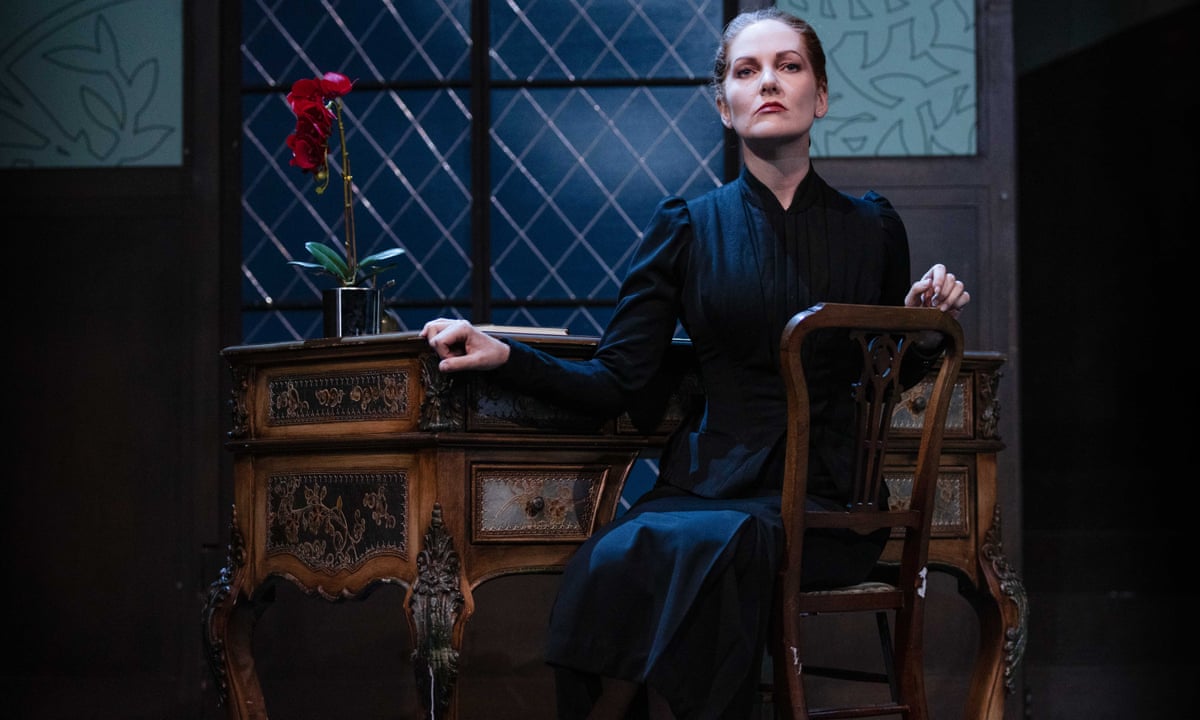 Photo: Mak Senior
by Carla Rudgyard
"Last night, I dreamt I went to Manderley again" is Daphne Du Maurier's opening line in her iconic gothic novel; 'Rebecca', and now, it's the first song of many in Michael Kunze and Sylvester Levay's new musical at Charing Cross Theatre.
Maurier's iconic piece, which has never been out of print, was converted to stage by the author herself in 1940, but makes its return with a fresh script and over 20 new songs this autumn.
The show seems to have neglected much of the intricate and eerie description Du Maurier's writing is so renowned for, as we follow the unnamed young woman (whom, for ease, we'll name the second Mrs De Winter) through her naive marriage with wealthy widower Maxim, before discovering that both he and his household are haunted by the phantasmal presence of his late first wife, Rebecca.
This is certainly a performance for those who prefer song over text, due to the show's desertion of much of Maurier's celebrated detail, diction and imagery through the eyes of the second Mrs De Winter's narration in exchange for unceasing musical numbers, where dialogue is squeezed into melodies that are unlikely to stick. Lauren Jones' sweet voice transcends the somewhat repetitive material, with songs 'Are You Happy' and later 'Are You Angry' portraying her character's innocent quest to decipher her mysterious husband. Jones' romantic duet with Richard Carson (Maxim De Winter) in 'You Can Count On Me' was also refreshing, as their voices intertwined charmingly, while projected flowers bloom (Matt Powel) before we delve into their dark and dreary home riddled with memories of Rebecca's past.
A swell of sinister strings as Mrs. Danvers (Kara Lane) descends the notorious Manderley staircase immediately sends shivers, as her brilliantly hostile and unnerving presence captures the cold and overbearing housekeeper who haunts the halls of the De Winter's Cornwall estate. Later, Lane steals the show when she sings the most notable song from this musical; named after the title, against the creepy walls of twisted vines (Nicky Shaw). The song is accompanied brilliantly by fantastic ensemble harmonies, although it's questionable why, in such moments (and their many reprises), the ensemble is often nowhere to be seen.
In the second act, the unsolved mystery of Rebecca's death, and details of her love affair with her slimy first cousin Favell (Alex James-Ward) are ambitiously squeezed into unrhyming (and yet still sung) dialogue-filled songs with no memorable melody, which makes for bizarre listening. Eventually, all is revealed, but before the De Winters can rest, their Manderley estate sets ablaze. The brilliantly orchestrated moment of Mrs. Danvers, ascending the burning stairs as the flaming building crumbles, like a spider refusing to abandon its web, is a fantastic image that's difficult to forget.
Ultimately, this is a show that bites off far more than it can chew, condemning this ship, much like the late Mrs. De Winter's, to sink. But with a fresh creative team, a larger space, and a few of the songs thrown overboard, I see no reason why the talented cast of this production cannot be rescued from the choppy waters.
Rebecca is at Charing Cross theatre, London, until 18 November.
Carla is a playwright and a graduate of the Royal Central School of Speech and Drama. You can find her on Instagram.