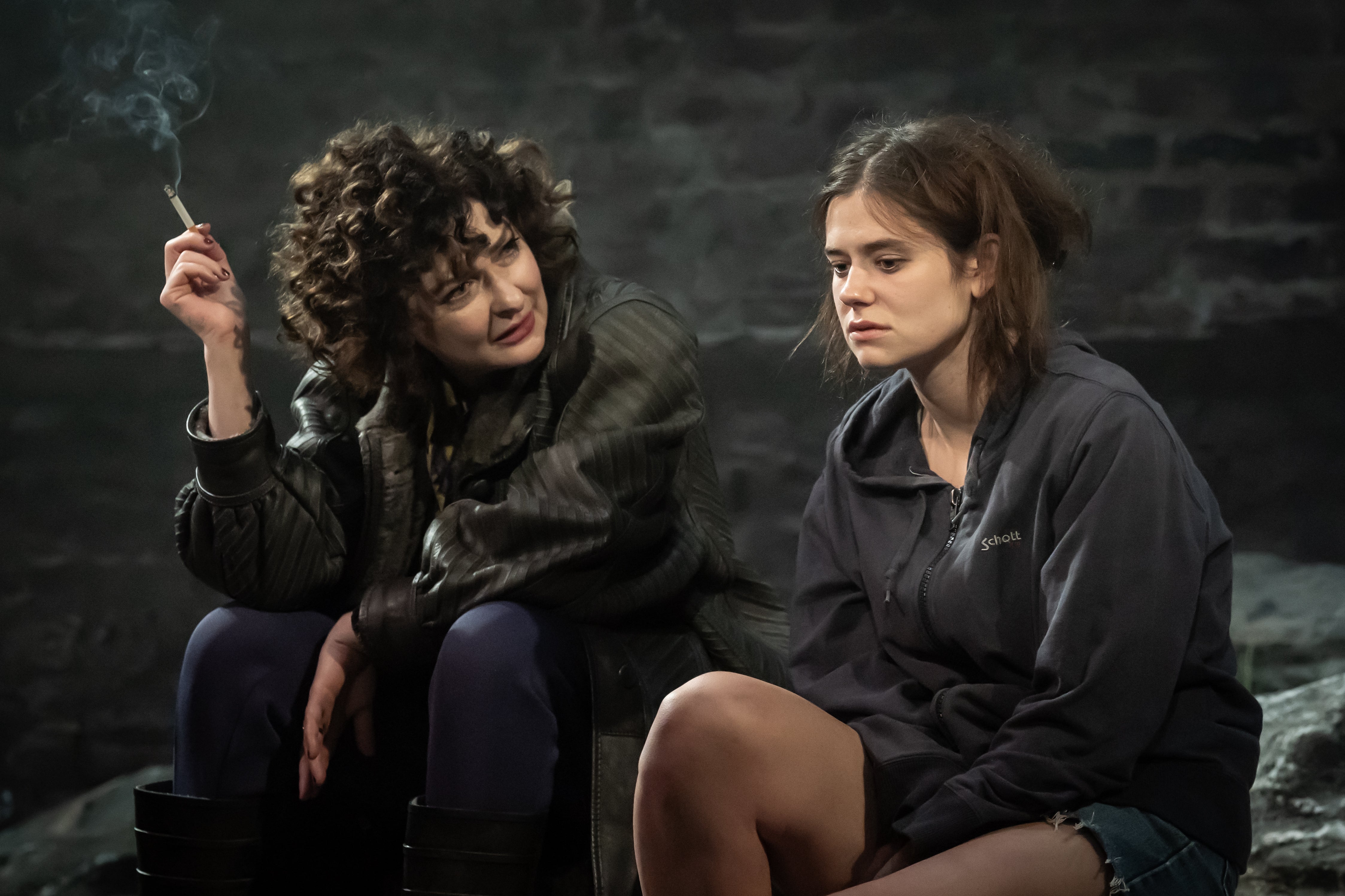 Photo: Marc Brenner
By Jim Keaveney
It is Portia Coughlan's (Alison Oliver) 30th birthday and, despite seemingly having everything - the rich husband, the house, three children, friends and family - she is starting the day with a slug of brandy because all is not well with Portia Coughlan. Originally commissioned by National Maternity Hospital, Dublin, Marina Carr's most notable play casts away the usual notions of motherhood, particularly motherhood in Ireland, and paints a vivid picture of a woman bound and struggling to break free from those preconceived notions. But is it the patriarchal society she pushes against that provokes her ire or is it the loss of her brother on the same night fifteen years ago?
It's a play of twins; both the siblings and the play's two acts which mirror each other to great effect with the play's shock conclusion coming near the end of act one, and a play of abused women too. We learn that Portia's mother is abused by her mother-in-law, Portia's grandmother Blaize Scully, portrayed by the hilarious scene-stealing Sorcha Cusack who revels in every moment in the spotlight, who in turn had her face beat to a pulp regularly while former prostitute Maggie May Doorley (Kathy Kiera Clarke in fine form) was beaten and abused by a client.
While those stories are recounted we see the abuse of Portia first-hand. This is bleak stuff accented with flashes of cutting dark humour - we Irish always find levity in the darkest moment - matched in Alex Eales' stage design which sees the harsh, rugged banks of the Belmont River crashing through the back wall of the Coughlan's living room. The inclusion of songs for this production brings the shadow of Portia's brother Gabriel's (Archee Aitch Wylie) ghost into devastating focus.
The support across the piece is fantastic; in addition to Cusack and Clarke, Fergal McElherron completely embodies the shadow-man Senchil Doorley - the only man in the play without malice, a man so soft 'he wasn't born, he was knitted' - and Conor Macneill excels as the cowboy-slick barman who mistakes his greasiness for slickness.
Such is the ensemble performance it would be easy to name-check every member of the cast but this is Oliver's show. She is sensational in her portrayal of the grief-stricken and broken Portia, with the Belmont River, the heart of the play, practically bursting from her chest as she struggles to hold in the generational trauma that was set in motion by an abusive man two generations prior, unrelenting as it bears out its tragic conclusion on another Irish woman.