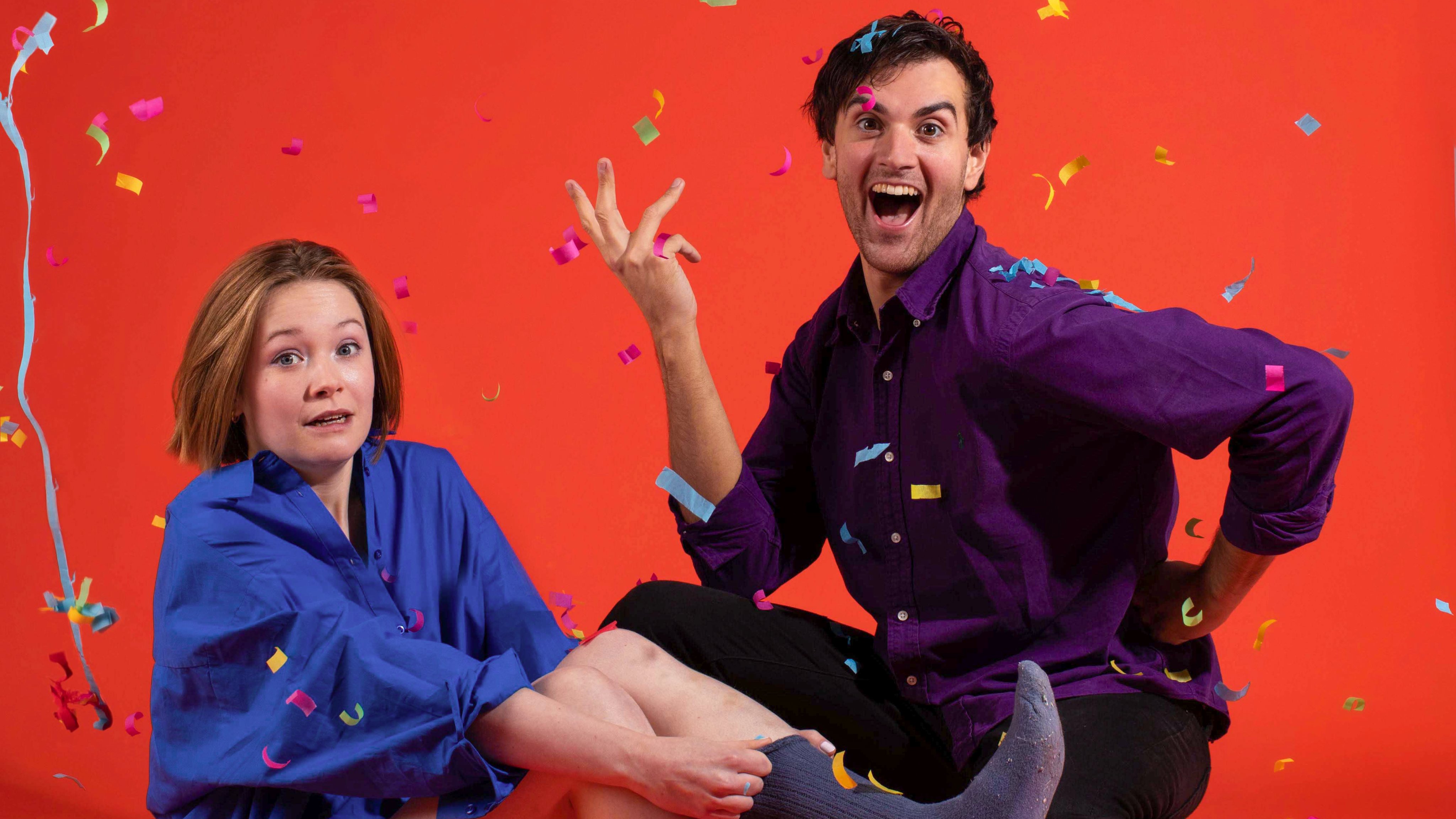 After a critically acclaimed run at VAULT Festival, the OFFIE and VAULT Festival Award-nominated Scratches is opening tomorrow at the Arcola Theatre. This raw, brutally honest new play aims to spark conversations around self-harm and mental illness through cabaret, humour and heaps of confetti! A celebration of survival and friendship, of youth and recovery, Scratches is a story of the events that shape us, told with riotous humour, dance moves and a glitter curtain.
Writer Aoife Kennan stars as GIRL (Blue Jean, BFI; Vera, ITV; Sky Comedy Rep Winner 2023), whilst her BEST FRIEND is played by Zak Ghazi-Torbati (Hot Gay Time Machine, Soho Theatre/Trafalgar Studios; Doctors, BBC; The Hypochondriac, Sheffield Crucible).
As she prepared for opening night, we caught up with Kennan to find out more about the play, and its glitter curtain.
Q&A with Aoife Kennan
What can you tell us about Scratches?
SCRATCHES is a funny new play about a girl in her twenties who struggles with self-harm, and how she deals with her mental health, relationships and recovery. The play is a big mash-up of styles- there's some stand-up, some cabaret, some drama… but she's joined on the journey by her best friend who regularly steals the limelight, plays all of the different characters, and is there to catch her when she falls.
What was the original inspiration for the play?
It's a true story, so I play myself as 'GIRL', and the 'BEST FRIEND' is played by my real-life friend, Zak. I started writing the script way back in 2019 to process things at a time when my mental health wasn't great, and I was struggling with self-harm. I had spent so long not sharing how I was feeling, even with my closest friends and family, so the play was a very dramatic way to make a 180 turn and share a bit too much! But I do think it's important. I think the more we talk about our mental health, and difficult taboo things like self-harm and medication, the less judged we will feel and the easier it will get.
What is it like to be taking the play to the Arcola, following your run at VAULT Festival?
It's very exciting! I've always loved the Arcola, and it feels like the perfect place to bring the show. There's a real community atmosphere around the theatre, and it has the kind of underground cabaret vibes that the show was designed for. I'm also a real sucker for their exposed brick- I think it will look lovely with our gold glitter curtain!
How important was it to find the balance between the lighter and darker moments of the play?
I have quite a dark sense of humour, and manage to be glib even in the darkest moments, so comedy felt like a natural way to process the darker elements of the play. I also think laughter serves a really important social function: it's a great ice-breaker, a great way to get an audience onside, and it's a great way to make difficult material feel more relatable. We never want the play to feel insensitive- mental health struggles are never the butt of the joke- but I think the funny stuff is a way to invite people in. Also, real talk, a one hour play about mental health with NO jokes sounds AWFUL. We're here to show people a good time!
What do you hope people will take away from the play?
I hope they have a fun and fabulous night. I hope they dream of glitter curtains and confetti. I hope they feel more connected with their friends. I hope the songs get stuck in their head (a few of my friends can now recite them back to me, so be warned!) But most of all I hope they come away feeling less alone. Managing your mental health is a huge part of adult life, and we all go through peaks and troughs, so hopefully SCRATCHES opens up the conversation and helps to normalise that.
Scratches is at the Arcola Theatre from 7 November to 11 November